ShayRaeInGame's Top 5 Scariest Games Spooktacular!
5. Fatal Frame (2002)




The Scoop:
Fatal Frame revolves around a girl named Miku Hinasaki, who braves the very-much haunted Himuro Mansion in search of her older brother, Mafuyu. Miku's weapon is a little different than what we're used to- the Camera Obscura, an antique camera passed down from her mother, which has the ability to damage and capture the spirits out to get you.  
The Scares:
I was only 11 when this game came out and lemme tell you this, kids, it scared the absolute pants off of me. The atmosphere is dark and eerie and the ghosts are so horrific. I know in this day and age, we're all so desensitized to things, but when you see what looks like legs walking towards you, only to see your enemy at the side and it's a FREAKIN' WOMAN BENT RIGHT IN HALF, you get kinda spooked. There's a decent arsenal of grotesque ghost types and all of them have their own background stories tied to the Himuro Mansion's sordid past. 

4. Penumbra: Black Plague (2008)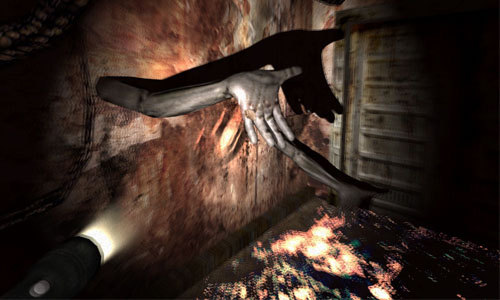 The Scoop:
The story of Black Plague takes place after the first game of the series, Overture. The first game's protagonist, Philip, sends an email to a friend explaining what has happened to him and begging him to finish the work he could not. Because what are friends for if not sending their pals into impending doom? The rest of the game is designed as a flashback narrated by Philip to his friend in the email.
The actual game begins with Philip waking up in a locked room, after being knocked out at the end of the first game…

The Scares:
The Penumbra trilogy is brought to you by Frictional Games. Sound familiar? Those are the folks behind Amnesia: The Dark Decent, an indie horror title I'm almost certain you've at least heard about in passing. Penumbra plays much the same, although you are sometimes given the ability to protect yourselves (with the weirdest gameplay mechanics, but that's besides the point). The dank facility you wake up in is a (literal) bloody mess and you're left to explore every nook and cranny, including air vents and the like. The scariest part of this game? Your enemies. They're alien-like creatures that stalk after you relentlessly and if there's one thing I have a hard time handling, it's being chased. Seriously. A butterfly can swoop at me and I'll run away. Don't judge me. 
3. SCP-087 / SCP-087 B (2012)




The Scoop:
SCP-087 and 087-B are very intriguing in the sense that they play out very differently that most games out there. In a huge sense, they paved the way for a lot of the indie horror titles coming out, such as Slender. In these games, you only do one thing: walk. In 087, you're roaming down an endless stairwell and in B, endless corridors. Yes, the games do end eventually, but you never know when and you never know when what lurks in the dark will come for you.
The Scares:
The whole element of the "unknown" is what eats at you in this mini series of games. You roam through the darkness with only a flashlight to light your way. The game's primary focus is to spook you with the dank atmospheres and scary sounds- and they do just that. In SCP-087, you spend your whole trip down the stairs with the sounds of breathing behind you and heavy footsteps. Even if there isn't much to these games, they do their job very well. Anytime I've played them, I've played them with my chair scooted back as far as I could get it and still reach the mouse and keyboard and my eyes so squinted I could just barely see. 
2. Silent Hill 2 (2001)




The Scoop:
Silent Hill 2 follows James Sunderland, a man who's haunted by the death of his wife, Mary. He's received a letter from her asking him to return to their special place, which is the town of Silent Hill. He arrives in town to an overwhelming fog overtaking the town, monsters roaming the street and a peculiar cast of characters all with questionable pasts and unknown motives.
The Scares:
Atmosphere is where it's at in in this game. From your surroundings, to the sounds, it all adds up to one incredible experience. Silent Hill 2 very much earns its rightful place as the survival horror darling. The fog blankets the town, making it nearly impossible to see a thing until you move in closer. Buildings are in rotten shambles. Outside of the atmosphere, Silent Hill 2 makes its name with iconic monsters and a beloved (and incredibly twisted) story. Not only was it meant to scare you, it was meant to unnerve you. The story delves deep into the dark recesses of the protagonists mind and despite the game being 11 years old, I could sit and talk shop on the story and the psychology behind it all until the cows come home; I'm still not certain on a lot because the theories one can come up with are nearly endless.
1. Amnesia: The Dark Descent (2010)




The Scoop:
Waking up in a dark and creepy mansion without a clue of what's going on, the protagonist finds out he's a victim of self-enduced amnesia. And what's the best thing to do when you find out you experienced something so horrible you wanna forget it? You make it your mission to remember. Am I the only person who wouldn't even THINK to do half the things people do in horror situations? Maybe I'm just a scaredy cat. 

Yes, yes I am.
The Scares:
I don't even know where to start with Amnesia. This is Frictional's second attempt at a horror series following Penumbra and, boy, have they learned a few tricks. Amnesia is probably best known for the fact that your only weapon is… well, you don't have one. The only thing you can do is run for the hills when anything comes for you. Not only that, but your character has a fragile human psyche and as you experience scary things, your vision blurs and you kind of become a useless lump (seriously, you basically wind up rolling around on the ground). With this as part of the game, you're forced to stock up on lamp oil and matches to keep yourself out of the dark and to run from the creepy crawlies. And trust me, the creepies crawlies are very creepy and you'll probably have no issue with running for your life when they come by. The feeling of hopelessness this game gives me is impressive. No game has scared me the way this one has. Once, I had a friend marathon run the game and I was just watching and even THAT scared me.

Looking forward to having the crap scared out of me when Frictional releases Amnesia's sequel, A Machine for Pigs.

Disclaimer: This is my opinion and my opinion only. :3 Think you've got something scarier? Let me know!
I planned to play Sims 3, but then I ended up reading creepy pastas while X-Files played as background noise.
It's as if I'm inadvertently trying to scar myself for life.
It's true.

I played this while on vacation and, well, good thing the room service changes the sheets daily because I probably peed myself. 
This helpdenko thing is creepy. Long-ass read, though.
Here's part one.

And it continues from the bottom to the next.


I'm laughing to the point of snorting and border-lining silent laughter.